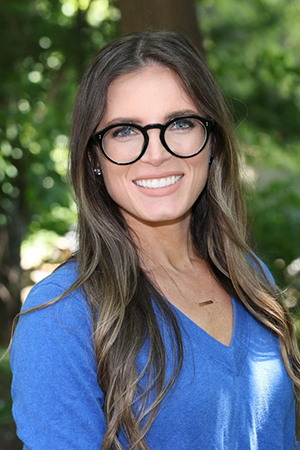 "I love to help my patients be their best selves and reach their potential. I am passionate about empowering others through smile design. We make meaningful connections every day that further motivate us to provide premium care." – Dr. Petts
Born and raised in Westlake, OH, Dr. Petts has known she wanted to become an orthodontist since she was 12 years old. She chose to join the healthcare field to hone her interest in science and art while empowering others. She describes her team at Ballrick Orthodontics as friendly and welcoming. Dr. Petts says, "In terms of our results, we accept nothing less than the best." Additionally, team members care about each other, and that value translates into patient care.
Excellence in Education
Dr. Petts is an advocate for continuing education. She is involved in interdisciplinary study clubs as well as teaching Case Western Reserve University residents on rotation through private practices.
Dr. Petts and her staff are lifelong learners dedicated to providing premium care to patients. Ballrick Orthodontics' approach to continuing education has the goal in mind of providing superior patient outcomes and experiences.
Professional Memberships
American Dental Association (ADA)
American Association of Orthodontics (AAO)
Great Lakes Association of Orthodontists (GLAO)
Greater Cleveland Dental Society (GCDS)
Outside the Office
Dr. Petts has three younger siblings, parents who reside in Westlake, and a husband who she met at Indiana University. Her husband played on the men's soccer team and Dr. Petts played on the women's soccer team. She also has one dog, a bernedoodle, and three cats, all Bengals.
Outside of work, Dr. Petts enjoys spending time with her family, reading, and strengthening her faith. She enjoys the outdoors as much as possible. She and her husband especially love supporting Cleveland and USA athletics.
A Focus on Community
Dr. Petts is actively involved in Lifebanc, the nonprofit organ and tissue recovery organization of Northeast Ohio. She is focused on raising organ and tissue donation awareness. In college, she co-founded an organization focusing on mental health, which is still thriving today. As a result, Dr. Petts is exceptionally attentive to the mental health of her patients.
"My profession allows me to hone my interests in science and art while empowering others. Working with people each day who offer unique perspectives and experiences keeps me grounded and informed. The "before" vs. "after" pictures are my favorite to review with our patients because we can see their faces light up with happiness. People perform well when they feel comfortable. We enjoy helping our patients smile with pride." – Dr. Petts