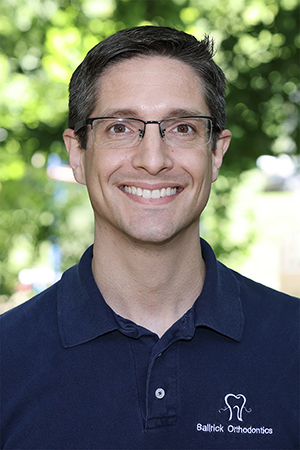 Dr. John W. Ballrick provides patients with leading edge technology in orthodontics while emphasizing personalized patient care in a kind and friendly environment. He shares a strong devotion to evidence-based research in orthodontics and the utilization of contemporary orthodontic resources and techniques. His dedication to his patients remains foremost and his commitment to excellence remains uncompromised.
Dr. Ballrick followed in the footsteps of his father, Dr. James W. Ballrick who has practiced orthodontics since 1971. Dr. John Ballrick graduated Summa cum Laude from The Ohio State University College of Dentistry. He received his advanced specialty degree in orthodontics from Case Western Reserve University. His research on advanced 3D imaging is published in the American Journal of Orthodontics and Dentofacial Orthopedics. In addition to his degrees and published research in the American Journal of Orthodontics on advanced 3D imaging, Dr. Ballrick has earned numerous awards and achievements including:
Dr. Robert E. Lauer Award for outstanding performance in the dental anatomy program
The Orville E. Russel Award of Excellence
2004 Basch Memorial Scholarship Award recipient
Phi Kappa Phi National Honor Inductee
The William S. Kramer Award of Excellence
The prestigious Alpha Omega Award for attaining the highest academic standing
Member of the Omicron Kappa Upsilon National Dental Honor Society
The American Academy of Implant Dentistry Certificate of Recognition for outstanding achievement, both academically and clinically, in implant dentistry
The American Association of Orthodontists Award for exceptional interest in the development of the oro-facial complex
The Sanford Neuger Award for clinical excellence in orthodontics
The B. Holly Broadbent Award for excellence in orthodontic research
To validate his commitment to orthodontics, Dr. Ballrick holds memberships to the American Association of Orthodontists and the World Federation of Orthodontists. In addition, he works with the second year orthodontic residents from Case Western Reserve University Department of Orthodontics to provide private practice rotations and instruction.

With such fervent dedication for academic excellence and professional growth, Dr. Ballrick is poised to apply his combined knowledge, skills, and experience, and thus provide patients with exceptional personal care and superb orthodontic results.